LION

3 BULB FLUSH MOUNT

CEILING FIXTURE

~ CIRCA 1915 ~

This fixture measures 10" across and is made of cast aluminum.

Matching 1 bulb fixture available.

Period correct reproduction frosted bulbs are not included, but are available with fixture purchase.

$ 529.00

VERY RARE

SOLD

1 Available

FREE SHIPPING*

Free ground shipping in the continental US only.


For Personalized Service

Call (209) 810-9973

Monday - Saturday

or

Click on link to Email us



Each of our complete restorations have been stripped to bare metal by bead-blasting, sealed in primer,  then hand finished to complement Victorian, Art Deco, and Art Nouveau period interiors. All wiring and sockets have been replaced with new quality parts for your safety. The fixtures come ready to hang with new mounting hardware.

Refurbished:





When  the original finish can be saved,  we refurbish the fixture or fan.  We replace all wiring and sockets with new quality parts while retaining the original patina. New mounting hardware is included on light fixtures.
LION

3 BULB FLUSH MOUNT

~ CIRCA 1915 ~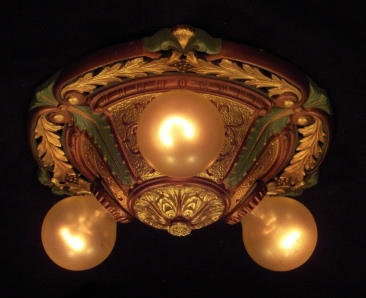 Vintage Lighting and Fan Shoppe

This website was designed and created by Teresa Glandon @ Vintage Lighting and Fan Shoppe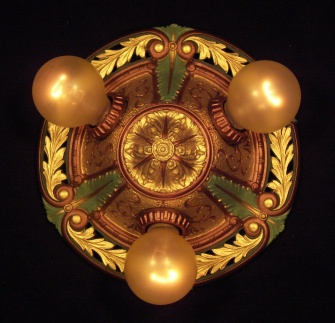 Enter your information below.

Email Address

& phone number: